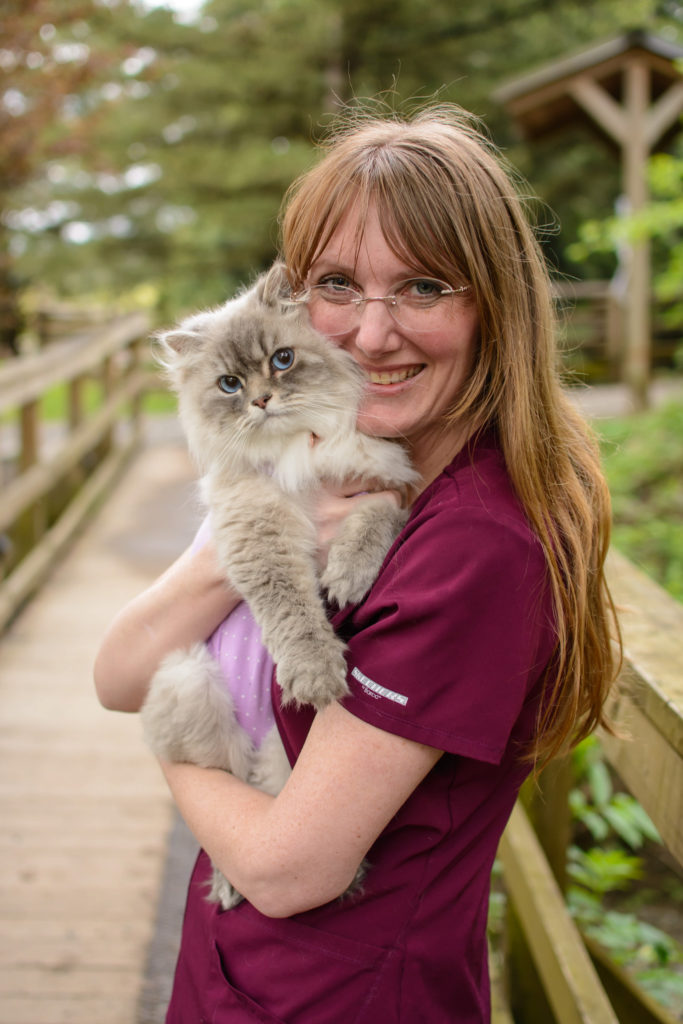 Dawn Hewitt
Registered Veterinary Nurse (RVT)
Dawn is our veterinary technician. She graduated from the Animal Health Technology program at Thompson River University in 2001. She began her career working in a fast-paced clinic in Surrey doing the majority of the dental work on top of her regular duties. She also served as a live-in nurse for overnight medications, feedings and care. Dawn took a leave from her career to have 2 children and focus on being a mom. During this time, she found her passion for newborn and baby photography. Dawn was very excited to step back into the animal world and join the team at Gladys. She has been part of our work family since 2017, with a brief hiatus when she had her surprise baby in 2019. She has been back on staff and part of the team for the past year. Dawn's gentle nature helps her to be a caring and compassionate nurse to her patients. She is known for medical notes and logs and also for creating special bandages for some special patients.
Dawn adopted a crazy, loving and energetic lab x Maremma (Jane) from a local rescue at 8 weeks old. She is now 3, but still full of energy. Dawn has 4 lovely cats (Meow Meow, Jones, Ben and June). June was brought into the clinic at 8 weeks old to be euthanized due to having spina bifida and not being able to go to the bathroom by herself. She rescued June at 8 weeks old being brought in to be euthanized. One look at those big blue eyes and the rest was history. June wears newborn diapers/baby onesies and needs Dawn to express her bladder daily. She is now 3 and thriving.
When not at work, which seems like her second home, Dawn enjoys spending time with her family. Dawn has 3 human children, 14, 9 and toddler who just turned 2. Her oldest is usually found doing crazy tricks on his scooter at the local skate parks. Her middle child is a competitive figure skater, and dancer, and wants to be a vet tech and work alongside Mom at the Gladys Pet Hospital one day. Her youngest just celebrated his birthday and keeps her very busy chasing him around (or Jane, who is one of his BFF).
Dawn is interested in many areas of animal medicine. Her main interests are anesthesia, surgery and dentistry. Dawn is very excited to be part of the Gladys team. She feels very lucky to be part of her "star team" practicing the high quality and care of medicine that our clinic provides.