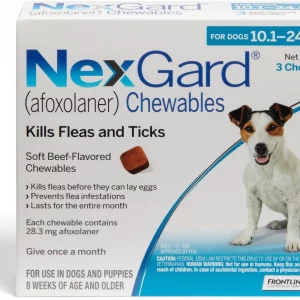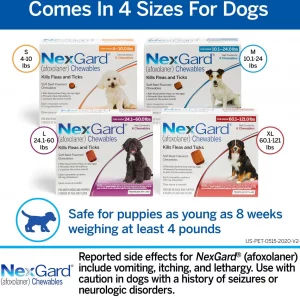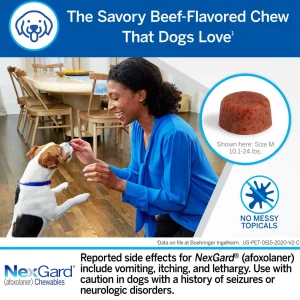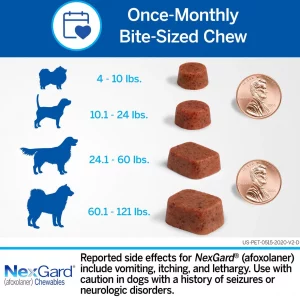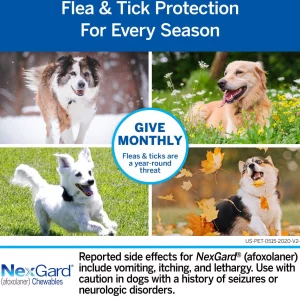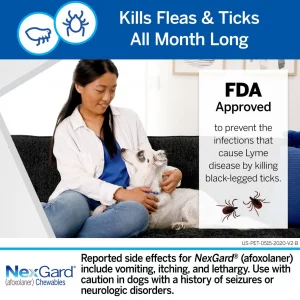 NexGard Chew for Dogs, 10.1-24 lbs, (Blue Box)
These are vet-recommended and FDA-approved to kill adult fleas fast before they have a chance to lay eggs. This product is also FDA-approved to help prevent Lyme infections as a direct result of killing black-legged ticks. Each fast-acting chew provides safe and effective protection, killing fleas and ticks for a full month. And the chews are easy to give because dogs love the delicious beef flavor—you may even give them to your dog with or without food! Each NexGard bite-sized monthly dose is gentle enough to give to puppies and dogs as young as 8 weeks, weighing as little as 4 pounds.
This product requires a prescription.
1. We'll ask for your vet's info during checkout.
2. We'll verify your prescription and ship your order.
Uses
NexGard (afoxolaner) contains afoxolaner which is absorbed into the bloodstream after ingestion. When fleas and ticks ingest blood containing afoxolaner, it causes hyperexcitation and death in these parasites. Dogs and puppies 8 weeks of age and older weighing 4 pounds of body weight or greater. Do not use on cats.
Possible Side Effects
Afoxolaner is a member of the isoxazoline class. This class has been associated with neurologic adverse reactions including tremors, ataxia, and seizures. Seizures have been reported in dogs receiving isoxazoline class drugs, even in dogs without a history of seizures. Use with caution in dogs with a history of seizures or neurologic disorders. The safe use of NexGard (afoxolaner) in breeding, pregnant or lactating dogs has not been evaluated.
Drug & Food Interactions
In a well-controlled field study, NexGard was used concomitantly with other medications, such as vaccines, anthelmintics, antibiotics (including topicals), steroids, nonsteroidal anti-inflammatory drugs (NSAIDs), anesthetics, and antihistamines. No adverse reactions were observed from the concomitant use of NexGard with other medications. For specific questions about your dog, we recommend that you consult with your veterinarian.
Precautions
NexGard (afoxolaner) is for use in dogs only. The most frequently reported adverse reactions include vomiting, itching, lethargy, diarrhea, and lack of appetite. The safe use of NexGard in pregnant, breeding, or lactating dogs has not been evaluated. Use with caution in dogs with a history of seizures or neurologic disorders. For more information, contact your veterinarian or refer to the full prescribing information.
Ingredients
Recommended Dosage
NexGard (afoxolaner) is given orally once a month, at the minimum dosage of 1.14 mg/lb (2.5 mg/kg). NexGard can be administered with or without food. Care should be taken that the dog consumes the complete dose, and treated animals should be observed for a few minutes to ensure that part of the dose is not lost or refused. If it is suspected that any of the dose has been lost or if vomiting occurs within two hours of administration, redose with another full dose. If a dose is missed, administer NexGard and resume a monthly dosing schedule. Flea Treatment and Prevention: Treatment with NexGard may begin at any time of the year. In areas where fleas are common year-round, monthly treatment with NexGard should continue the entire year without interruption. To minimize the likelihood of flea reinfestation, it is important to treat all animals within a household with an approved flea control product. Tick Treatment and Control: Treatment with NexGard may begin at any time of the year.
Storage Instructions

Store at or below 30 C (86 F) with excursions permitted up to 40 C (104 F).